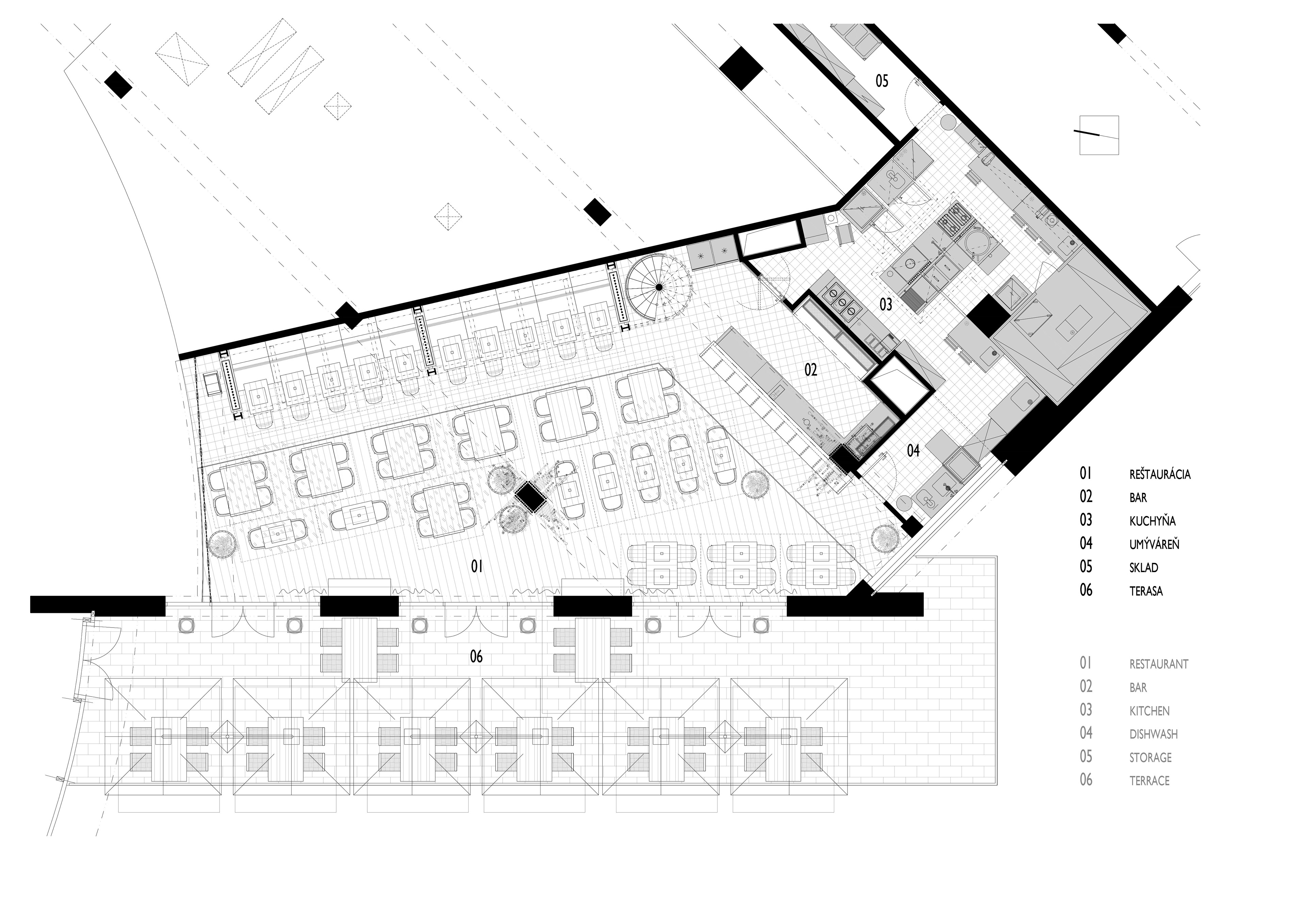 ČO /         interiér reštauračnej prevádzky
KTO /       juraj murín
KDE /       bratislava
AKO /       architektonická štúdia, realizačný projekt
SVK /     Voľný priestor po bývalej slovenskej restaurácii vo food court zóne bratislavského Polus City Centra prevzala spoločnosť City Gastro za účelom uvedenia prvej prevádzky reštaurácie Flamender - novej prémiovej značky ich portfólia. Z marketingového popisu: "Štýlový priestor pripomínajúci obdobie starej Bratislavy a prinášajúci to najlepšie z neho do súčasnosti. 'A la Carte' reštaurácia ponúka tradičné Prešporské jedlá, ako aj modernú gastronomickú výrobu." Prevádzkovo-funkčný ako aj vizuálny koncept vychádza z filozofie značky - lokálna výroba, tradícia, genius loci starej Bratislavy. Prostredie reštaurácie vychádza vizuálne z idey trhového priestoru - materiály so známkami opotrebovania, priemyslený charakter osvetlenia, masívne drevo v kombinácii s kovovými prvkami v antracitovej farbe. Priestoru dominuje kovová galéria, ktorá plní účel pestovateľskej záhrady, bar s výrazným zlatým akcentovaním a dekoratívne obloženia medeným trubkovaním konštrukčných stĺpov v priestore.
EN /    The vacant space left after the former Slovak restaurant in the food court area of Bratislava's Polus City Center was acquired by City Gastro in order to introduce the first Flamender restaurant - their portfolio's new premium brand. Citing their marketing brochure: "A stylish place, that resembles the golden age of old Bratislava and brings the best of it to the present times. The 'A la Carte' restaurant offers traditional meals from Prešporok cuisine as well as modern gastronomy production." The spatial, functional and visual concept is based on the philosophy of the brand - local production, tradition, genius loci of old Bratislava. The visual ambience of the restaurant is based on the idea of ​​a market space - materials with signs of wear, industrial style lighting, solid wood in combination with metal elements in anthracite. A dominating element of the main eating area is a metal frame gallery, which serves the purpose of an interior garden with fresh herbs, a bar with distinctive golden accentuating and decorative copper piping on structural columns at the centre of the restaurant.